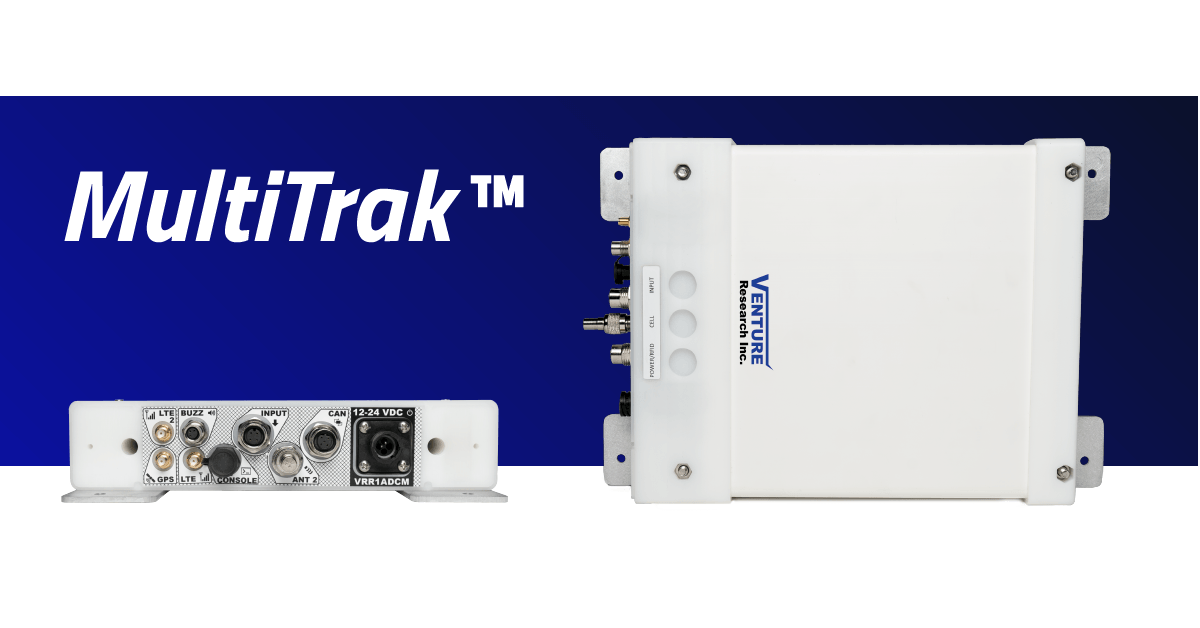 — Designed for outdoor use, the rugged MultiTrak™ features integrated multi-sensors with RFID, GPS, BLE, Wi-Fi, and PTCRB-certified 4G LTE for critical asset tracking —
PLANO — January 30, 2018 – Today Venture Research, Inc. is announcing MultiTrak™, a one-of-a-kind tracking solution that integrates multi-sensors, GPS, UHF RFID, BLE (Low Energy Bluetooth) and PTCRB certified 4G LTE cellular capability. Available for immediate deployment, MultiTrak is housed in a rugged IP67-rated enclosure, ideal for hazardous or outdoor use. Constructed initially to satisfy the challenging needs of the waste and recycling management industries, MultiTrak is equally useful in the construction, vehicle asset tracking and yard management industries.
"With MultiTrak, we now provide a full-featured, PTCRB certified solution that opens up new opportunities for asset tracking in even more industry sectors," said John Baker, president of Venture Research. Anticipating the growth of the global waste and recycling management data collection market from $57B in 2016 to over $223B in 2025, (source: Navigant Research), Venture Research anticipates that its customers will secure an early leadership position in this emerging highly digitized sector.
As the only mobile outdoor rated solution on the market to integrate cloud-based computing connectivity with RFID and IoT sensors, MultiTrak can collect data as an IoT node and deliver it directly to the cloud for monitoring, alerting, and analysis. This eliminates the need for middleware, reduces the cost of implementation and allows the solution to scale.
The MultiTrak solution deploys rapidly in virtually every application in every industry, including waste management and hazardous waste management; vehicle, yard management and asset tracking, quality control management, logistics and supply chain management, parcel pick-up systems, and the emerging tide of Internet-of-Things devices.
About Venture Research Inc.
For 20 years, Venture Research Inc. has been providing end-to-end solutions for customers in the area of supply chain automation with specialization in RFID and embedded computing. The company's products and services have been deployed in over 1,000 installations in 28 countries on six continents. Venture Research has provided state-of-the art solutions to the Aerospace, Document Tracking, Department of Defense, Department of Energy, Manufacturing, Pharmaceutical, Distribution, Security, Retail, Rail, Asset and specialty tracking industries, and has been an industry consultant related to the technology, processes and methodology to embed RFID and sensor networks in existing processes. www.ventureresearch.com
Product Data
Designed for remote RFID and IoT asset tracking in outdoor environments, the MultiTrak™ (VRR1ADCM) offers numerous tracking options, including UHF RFID, BLE, GPS and I/O sensors with reliable communications with an integrated PTCRB certified 4G LTE module.
Key Facts
• Integrated UHF RFID Antenna with external connection to an additional antenna.
• PTCRB certified 4G LTE integrated cellular modem allows for direct connection to AT&T, T-Mobile, Sprint, Orange and other GSM providers in North America.
• Integrated BLE (Low Energy Bluetooth) reader for IoT data collection.
• Multi constellation GPS receiver ensures accurate global positioning and timing.
• Direct cloud connectivity.
• Accurate, reliable data collection, storage and analysis.
• Store and forward capability is built in to accommodate areas with poor cellular coverage.
• Integrated Wifi allows an alternate communication path.
• Waterproof power cable connects to 12V-24V DC vehicle power.
• Large outdoor visible tri-colored LED indicators provide instant diagnostics.
• CAN Bus support for attached peripherals is built in.
• NEMA4/IP67 rated for harsh environment applications.
• Secure TLS 1.2 protocol support.
• Compact enclosure for vehicle mounting – 8.5″x9.5″x2″.
• A lightweight Linux implementation allows the solution to operate in an autonomous fashion and enables customer application development.
• Suitable for Tier 1 global customers